Unit F1.102*
3+kk
|
1. NP
area 131,6 m2 + 15,3 m2 terace and balcony + 137,8 m2 garden
A big 3+kk unit with an amazing interconnection with the exterior. The unit has a big garden and a bedroom with an en-suite bathroom and a view of the private Chittussi park.
free
39 990 000 CZK inc. Tax
Price includes garage parking spaces and cellars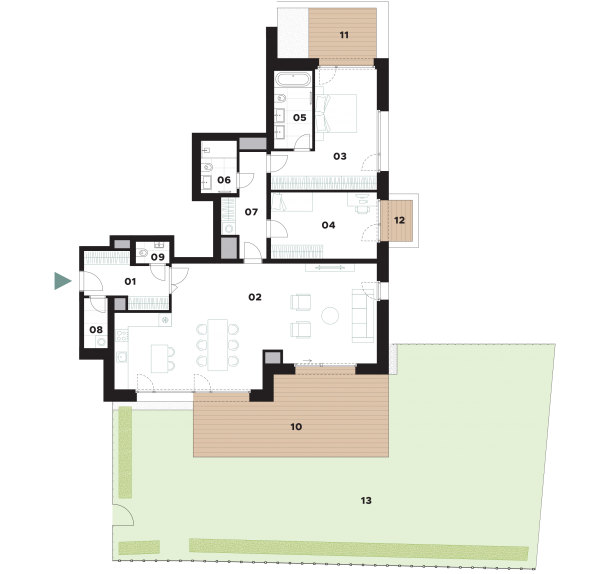 Table of areas
01
Chodba
8,9 m2
02
Obývací pokoj 9
62,0 m2
03
Pokoj
21,0 m2
04
Pokoj
16,1 m2
05
Koupelna
6,6 m2
06
Koupelna
4,3 m2
07
Chodba
8,4 m2
08
Komora
2,6 m2
09
WC
1,7 m2
Usable area of the unit
131,6 m2
Floor area of the unit
142,3 m2
10
Terasa
34,0 m2
11
Balkón
12,3 m2
12
Balkón
3,0 m2
13
Zahrada
137,8 m2
Cellar
SK10
Parking space
PS14
Parking space
PS15
Note: The areas of the individual rooms are only indicative. The displayed equipment (furniture, kitchen countertop and electric appliances, etc.) are not a part of the appartment. The scope of the delivery, specification of construction, areal adjustments and equipment are specified in the standard modification, which is a part of the contract about the future buyer's contract The developer reserves the right to minor adjustments.
*A social care housing unit and/or a housing unit where clients of the social care facility without the option of registering a permanent residency. This unit does not have to fulfil the requirements for housing (or units including appartments) and to the usage of the unit can be tied specific juristic regulations coming from the "Územní plán sídelního útvaru hl.m. Prahy" and/or the administrative practice.