Fullfil your dreams
The project has been fully completed and approved and is prepared to move in.
The last available 1 flat remain in the menu.
Appartment catalogue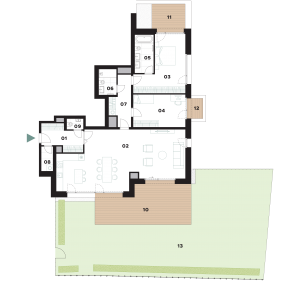 area 131,6 m2 + 15,3 m2 terace and balcony + 137,8 m2 garden
A big 3+kk unit with an amazing interconnection with the exterior. The unit has a big garden and a bedroom with an en-suite bathroom and a view of the private Chittussi park.
The price of the units includes garage parking, cellar and tax.
The price list is valid until a new price list is issued, and the developer reserves the right to change the price list at any time until a binding written reservation contract is concluded with the interested party.
The "In Negotiation" status is a non-binding pre-booking agreement valid for 5 days. It is possible to make another pre-reservation for such unit for a different interested party. However, the pre-reservation is not valid until the seller confirms by email to the prospect that the pre-reservation has been made.
* According to approval = housing unit for clients of the social care facility. Naming of the unit according to the cadastral decree (purpose of use) = flat.